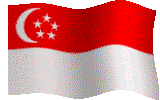 Celebrating Singapore's 41st birthday on 9 August 2006, the People's Association (PA) and its grassroots organisations (GROs), together with The Singapore Scout Association (SSA), will rally Singaporeans together to join the National Day Celebration. PA's slogan "Join the Celebrations, Fly Our Flag" is apt in promoting the display of the National Flag and inculcating a sense of patriotism among Singaporeans

In a first time collaboration, leading up to National Day 2006, the PA will be partnering with SSA to encourage Singaporeans to display the national flag with pride in July and August 2006. Scout units from primary and secondary schools are matched to the respective 84 constituencies where they are based. They will work closely with the grassroots organisations in their respective constituencies in this endeavour.

Starting 1 July 2006, grassroots leaders from Residents' Committees (RCs), Neighbourhood Committees and Youth Executive Committees, and scouts will be going house-to-house in both private and HDB estates in their respective constituencies to encourage the residents to display the national flag as a way to celebrate National Day 2006. For residents who do not have a national flag, they can purchase it from the grassroots leaders and scouts during their house visits or at any Community Centre/Club or RC Centre.

Our Scout Group will work hand in hand with the Grassroots leaders / RC members of the Joo Chiat SMC and Simei Division. More details this Sat on the work schedule for the next 2 Sats. Parents are welcome to join us in the sales of the National Flag.
pls click to download
Letter to Parents
Letter to Unit Leaders on Do's and Don'ts
PA and its Grassroots Organisations
Knowledge on National Flag
Group Scout Leader